CV20-1S-0004G
The Kinco CV20 1S VFD Series combines power and performance into one compact package. With 120VAC Single-Phase input, this drive offers up to 400 Watts (0.5 HP) of power to drive your Three-Phase AC motor. This series offers unique control methods to achieve high torque and accuracy, and variable speed range. Other features for this drive includes flexible I/O terminals, overcurrent, overvoltage, undervoltage, and overheat protection, acceleration and deceleration times, and vector control.
Input Voltage Range of 100-120V
Power up to 0.50 HP
Methods of Control: V/F control, Vector control
Overcurrent, overvoltage, under-voltage, overheat, overload and missing phase protection.
Sleep/wake up function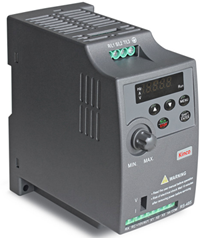 IMPORTANT NOTE: When stock status reads "contact us," the lead time could range from 6 to 16 weeks, model dependent. Please contact the factory for more details.
Wiring Diagram
Dimensions