Servo Systems
PKS-FD134S-08
The PKS-FD134S-08 Servo System includes a 750 Watt SMC80S-0075-30MAK-3DSU Servo Motor or SMC80S-0075-30MBK-3DSU Servo Motor with brake, operated by the FD134S-LB-000 Servo Drive. These packages are ideal and provide easy start-ups, convenience, and performance. The Servo Motors included in these packages provide torque up to 7.17 Nm. The FD134S-LB-000 Servo Drive is designed to switch dynamically among different control methods for more flexible operation and can operate position control mode either with pulse and direction inputs, 8 internal position points, or 8 internal speed points. Each system includes a 5m Motor Power Cable, 5m Encoder Cable and a Communication cable. If purchasing the option with a Brake then a 5m Brake Cable will be included as well.
24-70VDC
Rated Torque of 2.39 Nm
Power Ratings up to 750 Watts
Maximum Speed of 3690 RPM
16 Bit Single-Turn Magnetic Encoder
IP65 for Body, IP54 Shaft Seal
Brake Option Available
Position, Speed, and Torque Control
RS232 and RS485 Port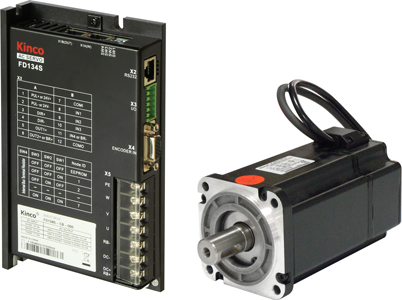 IMPORTANT NOTE: When stock status reads "contact us," the lead time could range from 6 to 16 weeks, model dependent. Please contact the factory for more details.