Servo Systems
PKS-FD134S-06
The PKS-FD134S-06 Servo System includes a 600 Watt Servo Motor or Servo Motor with brake, operated by the FD134S-LB-000 Servo Drive. These packages are ideal and provide easy start-ups, convenience, and performance. The Servo Motors included in these packages provide torque up to 5.73 Nm. The FD134S-LB-000 Servo Drive is designed to switch dynamically among different control methods for more flexible operation and can operate position control mode either with pulse and direction inputs, 8 internal position points, or 8 internal speed points. Each system includes a 5m Motor Power Cable, 5m Encoder Cable and a Communication cable. If purchasing the option with a Brake then a 5m Brake Cable will be included as well.
24-70VDC
Rated Torque of 2.39 Nm
Power Ratings up to 600 Watts
Maximum Speed of 3500 RPM
Magnetoelectric Encoder (DSU) or 2500 PPR Incremental Encoder (DSH)
IP65 for Body, IP54 Shaft Seal
Brake Option Available
Position, Speed, and Torque Control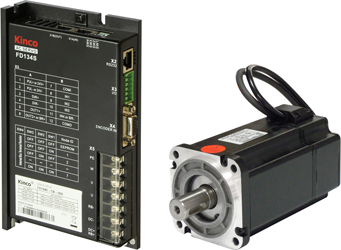 IMPORTANT NOTE: When stock status reads "contact us," the lead time could range from 6 to 16 weeks, model dependent. Please contact the factory for more details.
Driver Dimensions
Motor Dimensions
Driver Specifications
Motor Specifications
Driver Pinout
Torque Curve