K541 CAN Communication
Kinco offers a CAN module to attach to the K5 CPU series for communication with various CAN devices. CAN is a robust communication protocol that allows for an elaborate serial network to deploy in any industrial or commercial atmosphere. The PLC-K541 supports both the CAN2.0 and CAN2.0B communication standard. CAN offers message hierarchy schemes and enables you to connect with up to 72 devices on a single network. CAN is a peer-to-peer network, meaning there is no master that decides when to read or write data to the CAN bus. When a CAN node is ready to write to the CAN bus it simply checks to see if the bus is busy and writes to the network. CAN frames do not contain addresses instead an arbitration ID that is unique through the network labels the frame. Each node receives the frame and depending on the arbitration ID of the frame, each CAN node on the network decides whether to accept the frame.

Control Area Networks (CAN) were created in 1985 for in-vehicle networks to replace point-to-point wiring systems, which resulted in bulky wire harnesses. CAN was adopted quickly as a high-integrity serial bus system and became the standard known as ISO 11898 in 1993. Each device on the network is equipped with a CAN controller chip, and each device sees all the transmitted messages. Each device decides if a message is relevant or if it should be filtered allowing for structure modifications to CAN networks with minimal impact. CAN messages are given priorities so if two nodes try and communicate simultaneously, the one with the higher priority gets transmitted and the one with the lower priority gets postponed. Since CANs introduction it has proven its dependability allowing for integration in a wide variety of applications. CAN is now integrated in railway systems, aerospace applications, medical equipment, lifts and escalators and even non industrial applications such as laboratory equipment, sports camera and even coffee machines.
Supports CAN2.0A and CAN2.0B Standard
Communication Baudrates Ranging from 10K~1Mbps
Boot-Up Configurable via KincoBuilder
Supports:

72 CANopen Slave Stations
Network Management (NMT)
Process Data Objects (PDO)
Service Data Ojects (SDO)
Preset Emergency Messages
Node Protection
Heartbeat Messages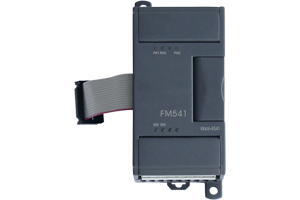 IMPORTANT NOTE: When stock status reads "contact us," the lead time could range from 6 to 16 weeks, model dependent. Please contact the factory for more details.