K508 CPUs
The K506 and K508 series provides special I/O functions, a CANopen master, 1 RS232 and 2 RS485 communication ports, integrated analog input and output channels and more. The high speed counters come in 12 different operation modes, support single-phase frequency up to 60 KHz and dual-phase (A/B phase) frequency up to 20 KHz. In the 12 different modes, each counter has its own inputs for clock, direction control, start and reset, and has a 32-bit present value. The built-in high-speed pulse outputs can reach a maximum frequency of 200 KHz, and support PWM. The free KincoBuilder software provides absolute and relative positioning, homing, jogging and quick stop instructions. With multiple communication ports, the K506 series becomes an ideal hub for data processing with field devices, such as temperature modules, servo drives, field busses and more. The K506EA 30AT comes integrated with 4 analog inputs and 2 analog outputs, enabling the user to control and monitor countless more devices.


Two High-Speed Counters
Two Pulse Train Outputs
Relay and/or Transistor Outputs
24 Sinking or Sourcing Inputs
16 Transistor and/or Relay Outputs
Multiple Communication Ports
Free IDE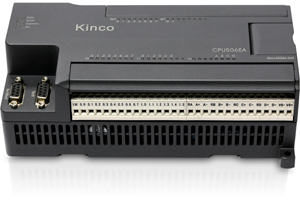 IMPORTANT NOTE: When stock status reads "contact us," the lead time could range from 6 to 16 weeks, model dependent. Please contact the factory for more details.
Dimensions
Wiring Diagram