MK070E-33DT
The MK070E-33DT HMI with integrated PLC provides a reliable system to help your application run smoothly and efficiently. This HMI/PLC combination features a 256K color display mode that enhances your touch screen with rich color and incomparable resolution. The IP65-rated front screen is protected against dust ingress and may be subjected to low-pressure water jets. On the backside, the PLC is directly attached and integrated into the same package with the HMI. The PLC provides special I/O functions, a USB2.0 (USB-B Connector) programming port, four high-speed counters, four high-speed outputs, two RS485 communication/serial port(s), model dependent, integrated digital input and output channels, and more. Built-in high-speed pulse outputs can reach a maximum frequency of 50 KHz. KincoBuilder software provides absolute and relative positioning, homing, jogging, and quick stop instructions for programming the PLC functions, while DTools software is a convenient and powerful configuration software that allows the user to create first-class, efficient programs for the HMI. KincoBuilder and DTools software are both required to operate this integrated device, and are available for free on our website. With a quick and easy set-up, the MK070E-33DT series is an intelligent choice for users who need the functionality of an HMI and PLC in one powerful, streamlined package.
256K Colors
Lifetime up to 50,000 Hours
800x480 Pixels
7" Display Screen
HMI and PLC are attached
IP65 Protection Level on Front Panel
24 VDC Input Voltage
Backlight LED
128MB Flash and 64MB DDR2 Memory
Communication Ports: USB2.0, RS485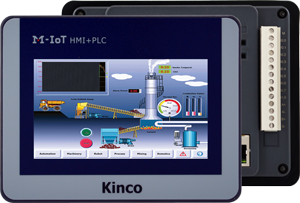 IMPORTANT NOTE: When stock status reads "contact us," the lead time could range from 6 to 16 weeks, model dependent. Please contact the factory for more details.