FV100-2S-0022G
The Kinco FV100 2S VFD Series combines power and performance into one compact package. With 240VAC Single Phase input, this drive offers up to 2200 Watts (3 HP) of power to drive your Three Phase motor. This series offers unique control methods to achieve high torque and accuracy, and variable speed range. Other features for this drive includes flexible I/O terminals, overcurrent, overvoltage, undervoltage, and overheat protection, acceleration and deceleration times, and vector control.
Input Voltage Range of 200-240V
Power up to 3 HP
Methods of Control: V/F control, Vector control
Overcurrent, overvoltage, undervoltage, overheat, overload and missing phase protection.
Modbus Protocol (RS485 baud rate up to 38400bps)
Sleep/wake up function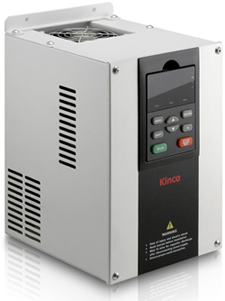 IMPORTANT NOTE: When stock status reads "contact us," the lead time could range from 6 to 16 weeks, model dependent. Please contact the factory for more details.
Wiring Diagram
Dimensions