Servo Drivers
FD423-EA-000
The FD423-EA-000 EtherCAT Servo Drive is an open network based on Ethernet to achieve real time control. It is capable of supporting very high speeds and synchronized control. The EtherCAT drive is best suited for establishing protocol in motion control and factory automation applications. With this technology the process of receiving Ethernet data, decoding the data, and then copying the process data to different devices, is not needed. The EtherCAT slave device can read the data marked with the devices address information when the frame passes this device. Data reading and data writing could be done within several nanoseconds. Note: FD423 Series Servo Drives are NRND (Not Recommended for New Designs). We recommend the FD423S Series as an alternative.
220VAC Single-Phase Input
400-750 Watt Power Range
Position, Speed, and Torque Control
Communication Ports: RS232 and EtherCAT
Comminucation Software

Configure Parameters
I/O Signal Monitoring
Speed and Position Curves
Gain Adjustments

Programmable Inputs and Outputs
CE Certified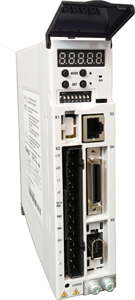 IMPORTANT NOTE: When stock status reads "contact us," the lead time could range from 6 to 16 weeks, model dependent. Please contact the factory for more details.
Main Circuit Diagram
Dimensions